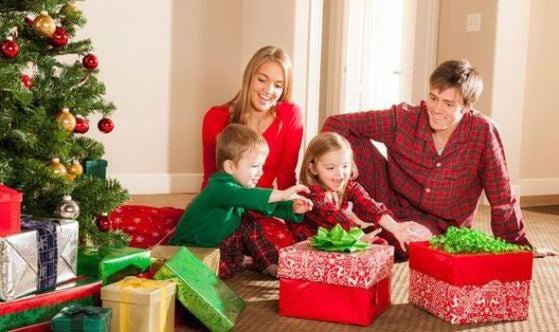 As parents, we all want to enjoy a magical Christmas morning with our children. We want to savor every moment of those precious years when St. Nicholas bounds down the chimney. But it's not always as easy as it seems in those Hallmark movies. Actually, it's a lot of work to pull off a memorable Christmas morning and all too often it can be stressful and chaotic.  However, with a little planning we can create that stress free morning that moms' deserve! Below are 6 simple tips on creating a smooth running Christmas morning.  
1. Wrap in Advance... Either As You Buy or Throw a Wrapping Party
Everyone knows that you shouldn't wait until Christmas Eve to begin wrapping all of the kids' presents.  But I'll admit I've been that parent awake until 3:00 a.m. doing just that! So wrap in advance as you buy the toys or better yet, have a wrapping party. I've really enjoyed doing this with girlfriends and wine when one of us can arrange for a kid free house. This labor intensive chore goes so much faster when amongst friends and we actually have a lot of fun. Just agree in advance what everyone is to bring -  wine, food, snacks, tape, scissors, bows, wrapping paper etc...  And the one thing I never forget is to bring extra large garbage bags to hide all those nicely decorated packages for trip back to your house.  I started doing this after a near miss when my son almost busted me.
2.  Assemble Toys in Advance
I always knew I should wrap in advance, but it took me awhile to figure out that I really should be assembling in advance as well. I always just assumed I shouldn't take the toy out of the box, but I learned the hard way to get rid of this assumption.  My rule of thumb now is if it's going to take longer than 5 minutes to assemble a toy, I do it in advance, even if it means I can't get the toy back into the original box.  Otherwise, you'll miss out on an enjoyable Christmas morning because you're reading assembly instructions in a foreign language. 
3. Collect Your Gear and Have it Ready the Night Before
This means getting all of your supplies together where they will be easily accessible.  
Batteries - whether you think you need them or not and in all sizes
Scissors and wire cutters - for doing battle with plastic ties and opening boxes
Screw drivers - both kinds
Video camera or Ipad- charged up and on the tripod (in the morning I just push record and let it roll and then at the end I get a few words from each kid)
Camera- Have it charged and ready to take pictures, but make sure you're part of the moment and not just capturing it.
A wrapping paper receptacle- I use a cardboard box and decorate it with wrapping paper so it looks nice, but truthfully a trash bag on hand works just fine too 
 4. Have Toy Storage Ready in Advance
As you shop for toys make note of what toy storage you'll need.  Let's face it, we spend lots of money on toy so it makes sense to protect that investment (lost toys or pieces) and give yourself a little bit of household sanity in the process. Chances are you'll be purchasing small toys or toys with lots of parts, pieces or accessories.  For those types of toys I recommend Toy Tamer Bags. This toy storage product fully contains small toys, is easily mobile and can be store in a variety of ways.  If you're purchasing particularly heavy toys such as a wooden marble maze that weighs 20 pounds make sure you have a very sturdy plastic bin ready to go.  So whatever Santa brings, be ready and have the proper type of toy storage on hand.  This way its a seamless transition from flying wrapping paper to toy storage and organization!
5. Make Ahead Breakfast
To really enjoy Christmas morning playing with your children and making memories I recommend making breakfast in advance.  This way you cut way down on your amount of kitchen time. I always feel so good when I walk into the kitchen after opening presents and everything is already to go.  My personal favorite is making a homemade buttermilk pancake batter and a breakfast casserole the night before.  Here are  a few links to some really easy make ahead breakfast idea at Southern Living and My Baking Addiction. 
6. Establish Ground Rules for Opening Presents
The last thing you want on Christmas morning is a kid frenzied, chaotic free for all that whips through your living room with the intensity of a small tornado. So give some thought as to what you want to achieve and set some ground rules. Here's what I do...
I establish a gift opening zone. The last thing I want is one kid opening presents behind the tree and another on the other side of the living room and I miss everything. After all, I worked really hard and I want to see their cute little faces! I have four kids so I use four oversized holiday placemats that I place in front of the tree (video camera pointed right at this spot) and this serves as their home base. They have to sit on their mat to open a present for all to see and I can control the pace this way.  They also have to "slam dunk" their discarded wrapping paper into the wrapping paper bin before getting their next gift. If I didn't do this I feel Christmas morning would be over in 30 seconds :) 
I hope these tips help your family enjoy a magical, memorable and stress free Christmas morning. Merry Christmas!
Kristi Mitchell
Mom of four and founder of Kids' Clutter Tamers